10-01-2016, 02:28 AM
2jakes
Junior Member


Posts: 7
Joined: Sep 2016
Reputation: 0
RE: Custom Red Ryder Loop
12-23-2016, 06:23 PM
RE: My Custom Red Ryder
I recently ran across (and bought) an adult-sized stock for my new Daisy Red Ryder while looking for info on making a longer stock. It's supposed to be 'plug and play' but turned out to need some help.
One problem was that the two holes (one vertical hole for a wood screw, one horizontal hole for a #10-32 machine screw) were both drilled in the wrong place. This caused the cocking lever to sit below the stock, leaving an ugly gap. Besides looking bad, this could cause the stock to loosen over time- in other words, unacceptable. So I decided to fix it myself instead of returning it.
This left me with a good Red Ryder stock that I put to use on my Model 104 that came with a short plastic stock. The RR stock needed a 1/4" hole added for the trigger return spring along with some minor fitting to allow the trigger to work normally. This Model 104 was missing the aperture/looks-like-a-scope rear sight when I bought it at a yard sale years ago, so I used a Model 105 Buck spring anchor that doubles as the rear sight.
Fortunately the original holes were far enough off that the new holes didn't intersect them. Regardless, I went ahead and filled the old holes before drilling the new ones. First I glued a small dowel made from a bamboo skewer and tapped it in place to close the vertical hole. I used a birch dowel bought from Ace Hardware to plug the bigger hole, cost less than 4 bits. After the glue dried I cut the ends off with a hobby saw. The new holes were drilled on a benchtop drill press after marking and double checking their locations. While there, I countersunk the forearm screw hole so the screw is now flush.
The other lesser annoyance is the new stock is made from 13/16" thick wood (1/16" thinner than the 7/8" factory stock). The sheet steel the Daisy is made from is thin, so the 'ears' can be bent inwards to compensate- but this warps the flat sides of the receiver. So I made up two brass shims from 0.032" sheet stock to compensate. After sanding down to 400 grit I finished with clear satin spar urethane over Carver Tripp Danish Finish in American Walnut.
FWIW, if I knew I would need to fill/relocate holes and make shims for an unfinished stock that costs about as much as a new Red Ryder, I would have simply used the RR stock as a template to make a longer stock- like I was going to do originally. Just adding some length to the RR stock would have been more than sufficient, but an enterprising fabricator could easily add some 'style', too. One possible hurdle to doing this is sourcing 7/8" thick wood- standard "1 by" lumber measures 3/4" and in my opinion wouldn't look very good, although if shims were used it would function okay. A 'full profile' Red Ryder stock will require a 5" wide board, although a 4" board will work with a small change in profile.
STOCK DETAILS
AS RECEIVED

NEW HOLE DRILLED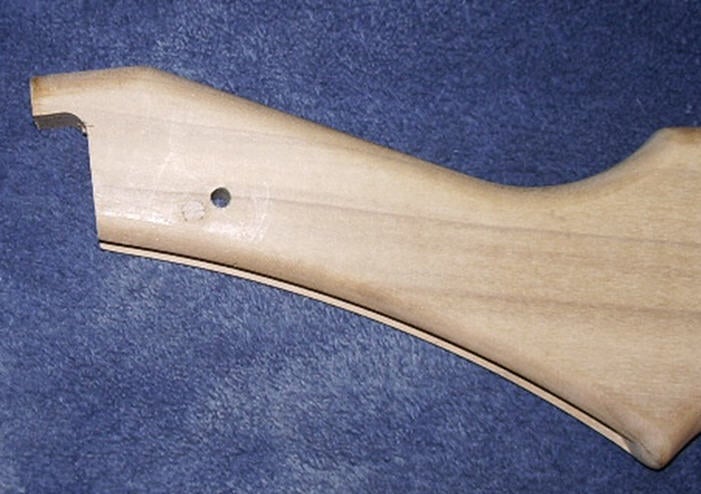 RELATIVE STOCK SIZES
Model 104 on top, Red Ryder in middle, AJ on bottom.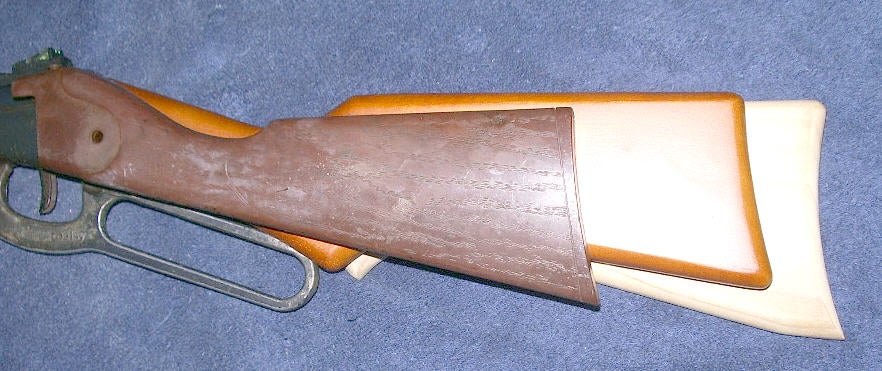 DURING STAINING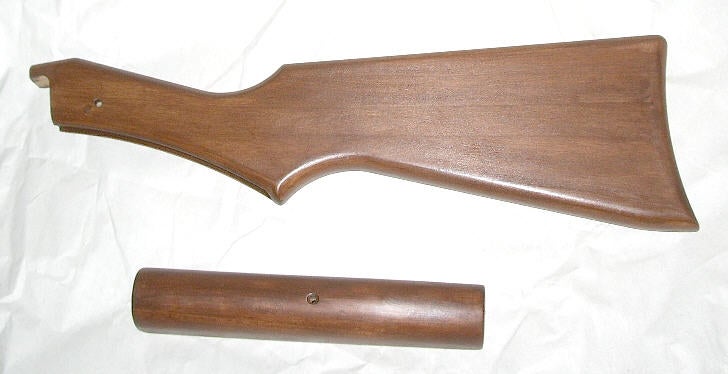 The topmost gun in the photos below is a ~1972 Model 104 I got in a yard sale for a couple bucks. This model was painted Daisy blue from the factory, not gold. The plunger head finally broke so I decided to spruce it up a little. It now has a fresh barrel seal and plunger head, a stronger plunger spring from a Sheridan Cowboy and the air tube is drilled to 3/32" ID. It also now has a Model 25 shot tube to replace the worn original shot tube. This was done by adding 2" to the barrel shroud using copper tubing and a coupling.
I repainted it satin black and added a Red Ryder stock I took from the gun below it in the photo. The curved metal lever, wood forend and barrel band came from Daisy, very inexpensive. The mods increased the muzzle velocity from around 240 fps to 325 fps.
The Red Ryder on the bottom of the photos has had the plunger spring shimmed and the air tube drilled same as the Model 104. The trigger assembly has been 'de-lawyered': the anti beartrap rack was removed and the rearmost trigger return spring was removed. This lightens the pull and helps the trigger feel a lot. The MV on this gun was measured on my chronograph at 335 fps.
A metal lever replaces the plastic lever. I added a higher front sight blade to get the POI to coincide with the POA- the increased velocity tends to make these guns shoot high. I removed the staple/saddle ring/thong because... well, just because.
More details on these two and a few more can be seen
HERE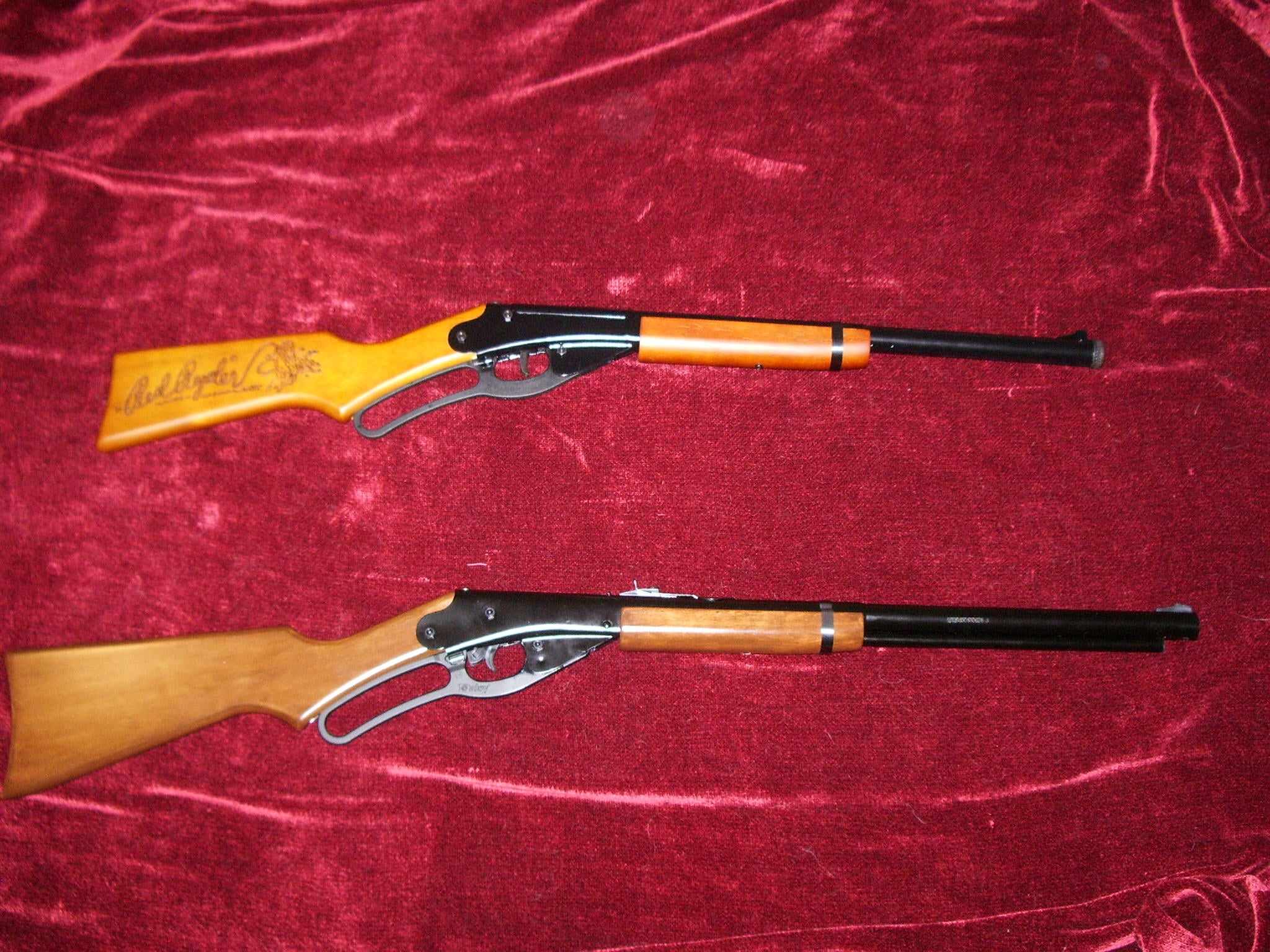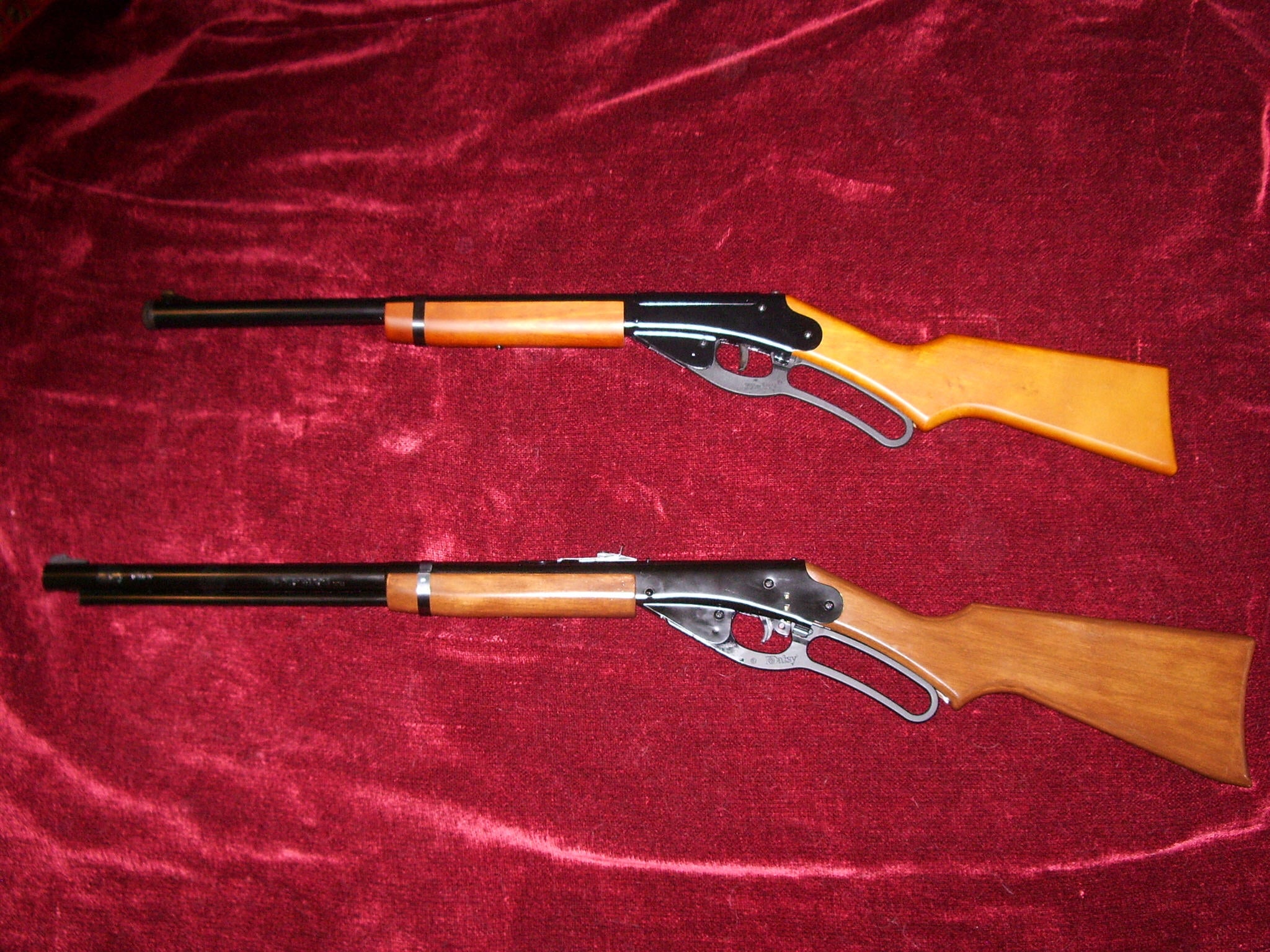 Thanks for looking!